It is sadly ironic that Penn State University and its leaders, concerned as they were about legacy, will perhaps best be known for their failures.  Over fifteen years, at least eight young boys were molested, some at Penn State's athletic facilities, by the defensive coach of its revered football team, Jerry Sandusky. Despite awareness of the behavior, no one in charge reported Sandusky to outside authorities, he was kept on staff and more boys were victimized.  The fallout continues, but so far Penn State's iconic head coach Joe Paterno, its Athletic Director, VP of Administration and President have lost their jobs over the matter.
I can't help looking at Penn State through the lens of the four integrity pillars in my book Navigating Integrity – Transforming Business As Usual Into Business At Its Best: Identity, Authenticity, Alignment and Accountability.
Identity – An institution's mission and values – its stated purpose and principles intended to govern how its work gets accomplished – serve as the foundation for its identity.  At one point, Penn State's football program was no doubt considered as means for accomplishing the University's main ends of higher education and character formation.  Over time, however, Penn's football program likely became the sun that the rest of the University revolved around.  When Penn State is mentioned, its football team is usually the first thing that comes to mind; few could name the University President, but most know about coach Joe Paterno.  What began as means to an end no doubt got confused by some as the end; they neglected to keep the main thing the main thing.
My research revealed no statements about Penn State University-wide institutional values, although I did find some for individual departments and programs.  Ironically, one stated value of Penn State's athletic program is "to promote traditional values of honesty, integrity, commitment and hard work as the foundation of Penn State's reputation and continuing success." (italics mine)  My guess is that there were no or few strong, institutional and systematic initiatives for communicating Penn State University core values, what they meant and how they would be enforced.
Authenticity – Penn State and its leaders failed the three main tests of authenticity: trueness, truth-telling and transparency.  Trueness is a measure of how institutions and their leaders live up to their mission, brand promise and core values.  The athletic department clearly did not live up to its stated value of "promoting traditional values of honesty, integrity, commitment and hard work . . .," nor its published Vision to maintain  a "consistently high level of competition that does not compromise the integrity which has characterized the Penn State program from its inception."  To give coach Paterno some credit, his failure to do more in the light of what he knew violated the very same ethical principles upon which he based Penn State's football program and that accounted for much of its success.
Truth-telling and transparency failed on multiple fronts; behaviors were overlooked, details were omitted from reports, and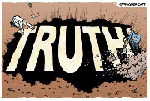 the full ugly reality remained an inside story.  Penn State and its athletic program displayed a conspiracy of silence instead of a culture of transparency – comparable to the dynamic that we've seen undo many institutions and that contributed to our great recession.
Alignment – Institutional cultures are products of their stories and traditions, reinforced behaviors, leadership modeling, and institutional systems like hiring, pay, training, what gets measured and performance management.  As Peter Drucker said, "Culture eats strategy (and good intentions for that matter) for breakfast."  No matter what, if Penn State's intentions, stated values and policies were not in alignment with its culture and institutional systems, they counted for little.  To paraphrase Ralph Waldo Emerson, when culture and institutional systems are not aligned with stated intentions, "actions speak so loudly we cannot hear what they are saying."  If we want explanations of what transpired at Penn State, a review of who got hired or disciplined and why, what got rewarded or didn't and why, and what people paid attention to or didn't will reveal answers.
Accountability – I still like Roger Connors, Tom Smith and Craig Hickman's take on personal responsibility in their book The Oz Principle: "seeing it, owning it, solving it and doing it."  Penn State's assistant coach Mike McQueary clearly saw Jerry Sanduskey raping a 10 year-old boy in the football team's locker room, and reported that to Paterno.  Paterno reported that to Penn State's athletic director and to campus police, but there was insufficient action and follow-through; no party took responsibility for actually solving the problem.  We need to remember as Moliere said: "It is not only what we do, but what we do not do, for which we are accountable."  Why did Penn State leaders and staff look but not see?  Why did they know but not act?  I suspect that more answers are forthcoming, but integrity gaps in the University's and its athletic department's culture will account for many of the failures.
Accountability requires paying attention to what matters.  If honesty and integrity really mattered, Penn State and its leaders would have paid more attention to that.  They would have instituted measures and evaluation mechanisms to help them "keep the main thing the main thing."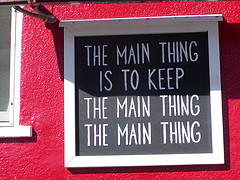 They would have examined their decisions and practices more thoroughly in the light of stated institutional and department values; they would have evaluated personnel and based hiring and disciplinary actions on different criteria; they would have paid as much or more attention to whether University leaders embodied University core values as to the football team's win / loss record and how much profit it generated.
Penn State University is only beginning to experience the negative consequences of inadequate attention to institutional integrity.  Inattention to integrity gaps of its leaders and in its culture will not only adversely affect its ethical reputation, but severely damage its brand, and in turn engagement of students and faculty, recruitment prospects, its finances and overall University effectiveness.



"If you have integrity, nothing else matters; if you don't have integrity, nothing else matters."  (Alan K. Simpson)
Do you have clear core values or principles that serve as a guide for your decisions and actions, especially in difficult situations?  Does your organization?
In any situations where decisions or actions did not model a core value or principle, why was that?  What needs to be different for that not to happen again?
Where and how do you think you or your organization might be at risk because of integrity gaps, and how do you know?  How can you close those integrity gaps?